Whether your child is starting at a new school or just entering a new grade, the first day can cause jitters for all ages (including the parents). It's important for any child to make a smooth and successful transition. The same goes for starting a Karate program.
A Karate program should be a well-rounded activity for any child and provide many benefits, one which offers plenty of fun, vigorous exercise your child will actually enjoy. It can help improve a child's confidence, increase their self esteem, plus could help teach them issues on bullying, personal safety and self defense.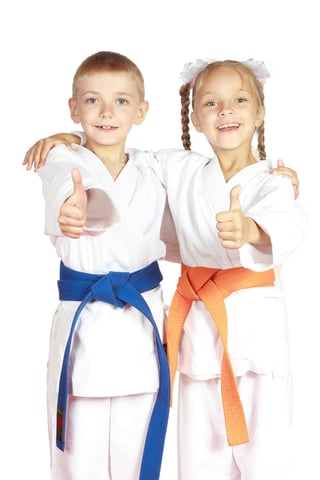 It is important for the student to improve over time, simply by doing the best they can in each class. A karate program is a well rounded activity in that it combines dicipline of the mind, body and spirit.
Karate training can result in a stronger sense of commitment, a more humble attitude plus a greater sense of awareness and compassion. The result is that those who study Karate can gain a number of benefits from their training which manifest on a physical, mental and even spiritual level.
The activity uses various techniques for building endurance, posture, coordination, balance and flexibility, demanding a lot of focus when performing any requirements or techniques. This focus will help a child in their daily life whether it be at school, studying or around others. The dicipline instilled by Karate classes builds a strong sense of core values, leading to better decisions throughout life.
My dojo at ORC does not use sparring as a training method, as fighting is not the point of karate. Karate literally translates into "empty hand". We a series of different coloured belts to show the students rank, with students starting with a white belt and advancing through the grading process. Students are not required to compete directly with other children, creating a cooperative environment where everyone challenges themselves to endeavour for their own personal best.
The ORC Karate Academy is celebrating its 20th year at the ORC and is an after school program which runs Monday to Friday from 4 to 6pm. It gives the parent flexibility with no contracts to sign, no grading fees to brown belt level. Our program is a non-sparing program focusing more on real self defense techniques, kata, basics, combinations and respect. Our style "Chito-Ryu" was derived from the Chinese martial arts and comes from Okinawa Japan, which emphasizes kata over other forms of training. Hands and feet are employed defensively as well as offensively.
Sensei Tsuroka, 10th degree Black Belt, started Karate in Canada in 1957 and is the founder of Canadian Karate. He awarded Sensei Kirk with his 5th degree Black Belt in June 2010.
Sensei Kirk started the ORC Karate Academy in May 1997 with 8 students. There have been over 2500 students come through the ORC Karate Academy dojo, and there are currently 45 ORC Karate Academy black belts. ORC's Karate Acaemy follows the theory that "karate should be taught as a form of self defense and not a form of fighting."
Actual ORC Karate Testimonials
"My daughter has taken karate for several years now and I have noticed how the program has helped with her self-esteem. She is confident in her abilities and continues to realize her potential."
"I love the fact that there is peer to peer teaching in the karate classes. It gives the kids a sense of confidence and helps them to respect the other kids in their class."
"I admire the discipline the kids strive for in the karate classes. My daughter has been able to set goals for herself and aims to achieve them."
"It is nice to see how the kids encourage one another. Since all belts can be in the same class together there is a sense of camaraderie and there is always someone available to help you out."
"The karate classes go beyond the classroom. My daughter will practice on her own without any reminder because of the discipline and focus she takes with her from each class."
"Thank you for putting the time and effort over the years with our son and preparing him for black belt. The grading showed us how beautiful karate is and the hard work that the kids have put in. We are very proud of him."
Contact Sensei Kirk Atkinson to learn more about ORC Karate!