I have always viewed Canadian culture as this incredible melting pot of different nationalities and religious backgrounds. Like so many of my fellow Canadians, my parents and grandparents were born in different countries before immigrating here. Growing up in Toronto, it seemed like every friend I made had roots from outside of North America.
This created a desire to want to visit different countries and experience different cultures. Throughout my travels, I have met many people with family and friends who immigrated to Canada. I have witnessed time and time again, the powerful degree of acceptance that exists in Canada that has allowed us to become one of the most diverse countries in the world.
That's not just lip service. In 2019, Canada was recognized as being among the most diverse countries in the world. Data from a Harvard University study was used to create a ranking system which provides each country with a score to represent how diverse they are overall. There are 12 factors - including ethnic diversity, personal freedom, and language mix - that help make up a country's overall score. This system is called the Global Diversity Index, where Canada ranked 7th out of 125 countries.
We are fortunate to live in a country where our diversity affords us various benefits that others may not experience. Take a drive across the Greater Toronto Area and you can experience food, music, and art from all over the world. This is possible because immigrants from all over the world came here and brought their talents, passions and hard work. As a former track athlete, I found it particularly interesting that Canadian immigrants also make up an assortment of talented athletes that have represented Canada on the global stage.
When you think of inclusivity in sport on the global stage, you can't help but think of the Olympics. While the Olympics have suffered a degree of corruption and controversy, it is still the most unifying competition in all of sport. When a Canadian athlete or team wins a gold medal in their event, Canadians from all over the country experience a sense of pride. Even if they fail to make the podium, we passionately cheer for our athletes. It doesn't matter what their name is, what they look like or where they are from; if they are representing Canada, we stand behind them.
If I told you that some of the most successful track and field athletes to ever compete on a national stage represented Canada, you might not believe me. But, believe-you-me, over the past 40 years, Canadian track and field athletes have been regarded as some of the best to ever compete.
I grew up learning in school about many of these black athletes with incredibly diverse backgrounds and I've have had the pleasure of meeting a few of them. I'm talking about athletes such as Ben Johnson, Donovan Bailey, Angela Whyte, Mark Mckoy, Phylicia George, Perdita Felicien, and Andre De Grasse. This exceptional group of athletes have broken both national and world records as well as medaled in competitions such as the Pan American Games, Commonwealth Games and they Olympics.
Their families are from Jamaica, Guyana, St. Lucia, Trinidad and Tobago, and Barbados. Some of the athletes were born in Canada with immigrant parents, while others immigrated to Canada at a very young age. Each of them worked hard to become some of the fastest sprinters and hurdlers of an era.
We fail to tell the whole story when we fail to teach our youth about how black athletes have had such an impact. Most Canadians have never heard of George Dixon, John and Barbara Howard, or Harry Jerome (whose Stanley Park Statue is pictured below). Yet these black athletes changed the face of Canadian sports and paved the way for the likes of Donavon Bailey and Perdita Felicien.
While the glory of a gold medal victory eventually fades, it is important to not only remember these athletes, but to celebrate their success. They represented Canada on the biggest stages and their stories should inspire future generations for years to come.
Thanks to their efforts, kids of all ethnic backgrounds have equal opportunity in sports to work towards achieving their goals.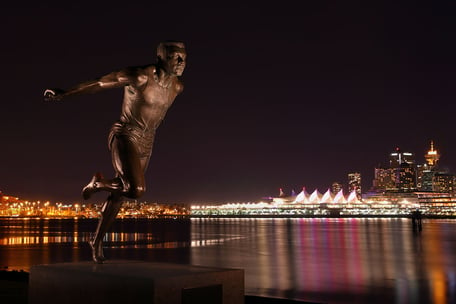 Sources:
https://www.dailymail.co.uk/news/article-2326136/Worlds-apart-Uganda-tops-list-ethnically-diverse-countries-Earth-South-Korea-comes-bottom.html

https://www.rickshawtravel.co.uk/blog/global-diversity-index-the-most-diverse-countries-in-the-world/