Swimming is not only an essential life skill, but a global sport, with millions of people participating. However, as a sport, swimming has an overwhelming majority of white swimmers. Much of this stems from a historical lack of accessibility to aquatics programming for black athletes.
While the number of black swimmers has grown - and continues to grow - much work is still to be done. For example, in the USA only "1% of almost 400,000 swimmers registered with USA swimming are African American, according to the USA Swimming Foundation."
In honour of Black history month, I would like to highlight some incredible black athletes who are not only taking the swimming world by storm, but also breaking barriers and making waves in history.
Simone Manuel, a three-time record holder and four-time Olympic medalist in swimming is the first woman of African American descent to win an individual Olympic Gold medal in swimming and set an Olympic and American record.
In the 2016 Rio Olympics, Simone Manuel took home a gold medal for her 100m freestyle, which set a record with a time of 52.70 seconds (and was a tie with Canadian Penny Oleksiak). She earned a second gold medal in the 4x100m Medley, plus two silver medals for her 50m freestyle and 4x100m freestyle relay.
A six-time individual NCAA Division Women's Swimming and Diving champion, she is known not only for making waves in the swimming world, but also for her work in social justice and inclusion activism.
In 2018, she put an inclusion rider in her contract with TYR Sport to ensure that "her partners extend meaningful opportunities to traditionally underrepresented groups", that is believed to be the first rider of its kind in pro sports. Manuel also works with USA Swimming as an ambassador and helps to make swimming more racially diverse. She has developed swim curriculum for schools in Ohio in partnership with Lebron James' "I Promise school".
Manuel has spoken many times about how she is "always seeking ways to give back to her community or inspire others to dream beyond traditional assumptions or stereotypes and to advocate for changes and equality.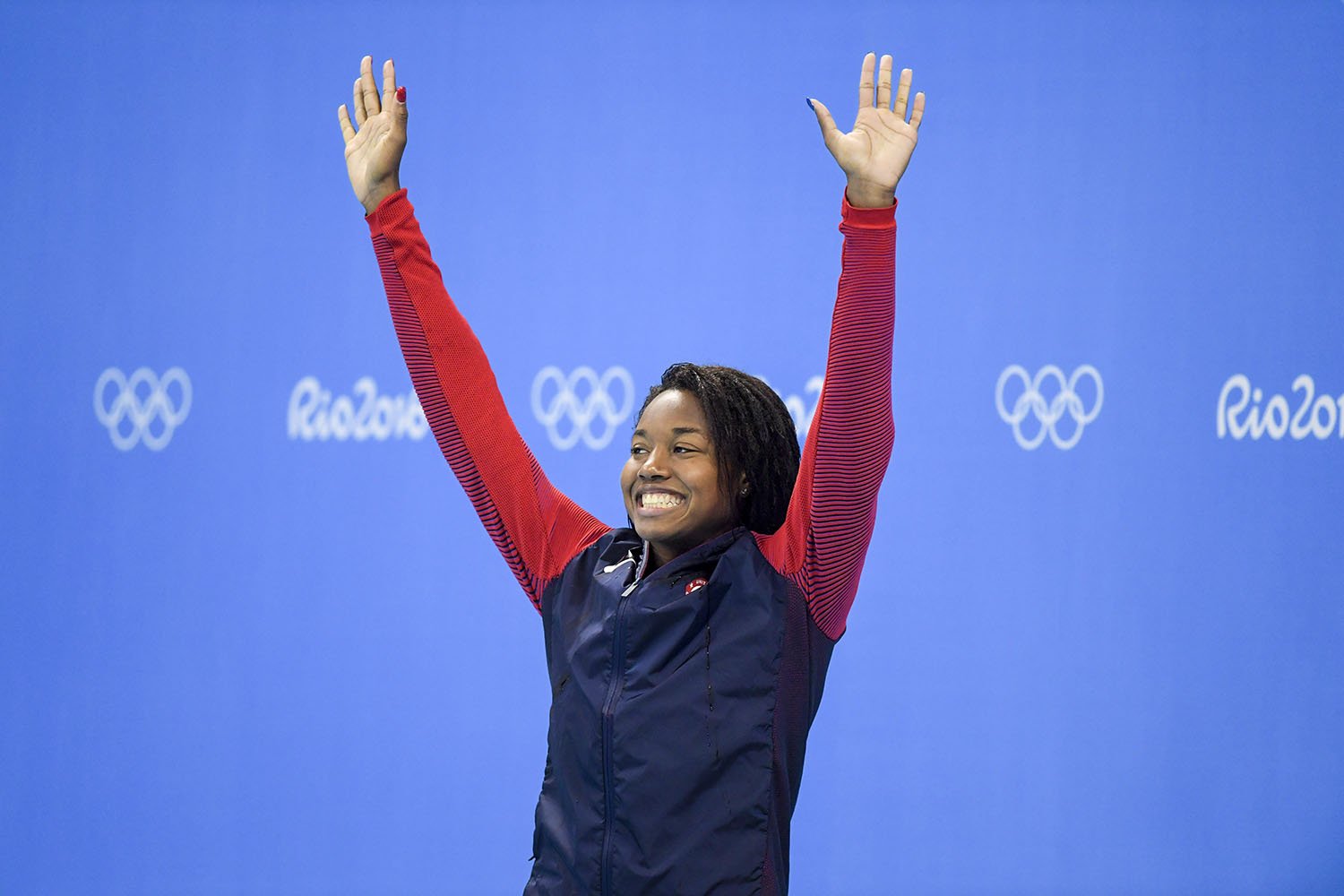 Jamal Hill, a 2019 world Para swimming silver medalist and 2018 US Paralympics Gold medalist for his 100m freestyle, 50 m freestyle and silver in 100m backstroke is also breaking barriers and making waves in history.
An avid swimmer and lover of the pool, Jamal noticed his body starting to fail him at 10 years old. After an incident where he was temporarily paralyzed, rigorous testing and many hospital visits diagnosed him with Charcot-Marie Tooth disease; a neurological condition that affects movement and sensation in muscles in arms and legs.
Hill continued to swim throughout his diagnosis amongst able bodied classmates and constantly dealt with the shame of having an "invisible disability." He continued to swim competitively throughout his high school years, which received him a scholarship to Hiram College. It was not until he was 23 years old that he let go of the shame he carried over his diagnosis, setting his sights on Paralympic gold.
He recently began an initiative to teach a million people to swim through private trainings, sponsors, and a digital swim school platform. This initiative is called the "Swim Up Hill" movement. Hill is dispelling myths around disability performance and what that looks like.
"I'm at an intersection of my swimming career, my heritage and my day-to day life as part of the disabled community. It had been the most exciting and amazing thing for me. It is an identity that not a lot of people have. What makes me love it is that it is mine and how unusual and unique it is. I feel so blessed to not only be able to be a beacon of what is possible in terms of swimming for black or disabled people but to really show people that when you own your truth and who you are, stuff starts to happen. There's no limit!"
Jamal Hill's story is not only inspiring and empowering - but also just beginning. Thanks to athletes like him and Simone, diversity in the pool is bound to improve.