This recipe is a great way to use up vegetables on their last legs. Onions, carrots, celery, even broccoli, cauliflower, zucchini or any other vegetable you enjoy. Along the way, you'll discover new ways to feed vegetables to your kids without them even knowing!
Ingredients
2 Cans of Tomatoes, 600 mL each, either crushed or diced (the whole tomatoes are great but if you don't have any way to crush them while their hot, feel free to go with diced)
1 Small Can of Tomato Paste
6 Cloves of Crushed Garlic
2 Onions, Diced
¼ Cup of Vinegar - Balsamic, Red Wine, Malt, White Wine Vinegar will do (optional but preferred)
2 Tablespoon of Dried Basil or ¼ Bunch of Fresh Basil Chopped
Salt & pepper to Taste
¼ Red or White Wine (I prefer red)
Optional Tablespoon of Sugar or Honey (if you prefer a less acidic tomato sauce)

Method
In a large pot, sweat the onions on medium heat. Once there is a small amount of browning on the edges of the onions, add garlic and dried basil (if you have fresh basil, add it at the end. The heat will kill the basil and you'll lose flavor).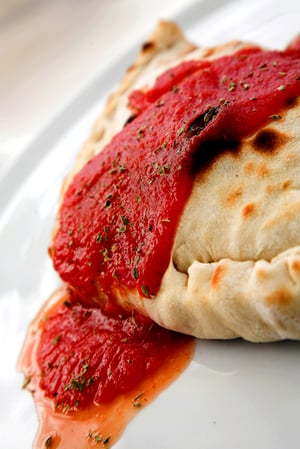 Now that your garlic and herbs have cooked out, add wine and vinegar. Make sure you scrape the bottom of the pot to get at all of the flavor trapped down there.
Now add the tomato paste and canned of tomato. Bring it up to a boil then reduce heat to a simmer.
Let simmer for at least 30 minutes, but an hour is better. As the sauce is simmering, this is a great time to add any vegetables you want to use up. If you want to hide them, use a box grater to shred the veggies. If not, you can always just dice them and add them to the sauce to cook. Another way to get more vegetables in there is replace a can of tomatoes with V8 tomato drink. It will provide a thinner sauce but lots of extra nutrition.
After an hour or so, add salt and pepper (about a teaspoon of each) plus fresh basil if you have.
Stir & taste the sauce. Add more salt & pepper if needed. If you find the sauce is acidic or just needs a little something more, this is where you would add the sugar/honey. Enjoy!