The ORC was once again present at the RBC Canadian Open from this summer. You could find our members at the 9th hole at Glen Abbey. The Open was exciting featuring Fed-ex cup leader Dustin Johnson and other notables such as Bubba Watson, Adam Hadwin and PGA Championship winner Brooks Koepka competing against one another.
In the end, Dustin Johnson ran away with it - winning in fine fashion on Sunday - and ORC member Marshals had a front row seat, inside the ropes. In fact, our Marshals could be seen on the Golf Channel helping Dustin Johnson spot his ball when it overshot the green and landed on a raincoat.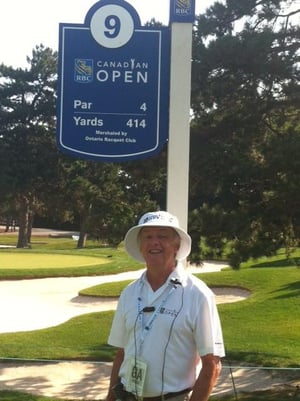 Our efforts did not go unnoticed by Golf Canada and the Marshal Committee Chair, Colleen Neil-Dal Bello: "I saw many examples of holes and other committee teams working together to support each other - marshals stepping up and staying longer, adding extras hours or additional shifts to ensure that there was coverage. Everywhere I turned the team was pulling together to 'make it happen'. This was evident throughout the week but especially after the rain delays and for the mornings where the marshals came in early to support the players as they finished the last few holes or to accommodate new start times for the 78 players making the cut."
Hole Captain and ORC member, Doug Mills is proud of the effort put forth by the volunteers: "Once again, members of the ORC distinguished themselves inside the ropes at the RBC Canadian Open. Through rain delays and big crowds following the marquis groups they kept their wits about them and had lots of fun doing it."
Tuesday, one of the practice round day, saw one of golf's legends, Lee Trevino honoured by Golf Canada. The next day, one of our Marshals was front line and center to an impromptu golf lesson from Lee Trevino to an amateur golfer who had hit an errant tee shot into the rough off the 9th fairway.
All in all it was a good week meeting new people, working hard and watching incredible golf. Next year the event moves to Hamilton Golf and Country Club and to a new slot on the calendar, the first week of June. See you there!