When I started playing tennis in the 80's, I heard about Arthur Ashe, the first black player to win a grand slam. Later, the Williams sisters' followed his success with an impressive 30 grand slam titles between them. It seemed to me that players of color had already made their mark.
Because of this, I never knew how hard it was for tennis players from earlier eras - until I read about Althea Gibson. I was mesmerized by what she had to endure to be able to play tennis and compete on the greens. She crossed some important bridges - clearing the way for many other athletes to follow.
Althea Gibson was an American tennis player, professional golfer, and one of the first black athletes to cross the color line and compete in national and international tennis tournaments in the 1950's. Althea performed in front of hundreds of people, knowing she couldn't use the same amenities as her spectators. Sometimes, she had to change in her car for a match, knowing she wasn't allowed in the clubhouse.
Gibson became the first black player to be invited to the US Open. Back then, players managed to qualify by accumulating points at sanctioned tournaments, mostly held at white-only clubs. This made things difficult when when Althea turned pro in the 60's, as she wasn't invited to most of the tournaments. This happened despite being the number one player in the world. Imagine nowadays Serena not being allowed at any Grand Slam tournament because of her color.
In 1956, she became the first African American to win a Grand Slam title at the French Championship. The following year she won both Wimbledon and the US Nationals, then won both again in 1958 being twice voted Female Athlete of the year by the Associated Press. All-in-all, she won 11 Grand Slam tournaments: five singles titles, five doubles titles and one mixed doubles title. Gibson was inducted into the International Tennis Hall of Fame and the International Women's' Sports Hall Of Fame. In the early 1960s, she also became the first Black player to compete on the Women's Professional Golf Tour.
Making her story all the more inspirational, Althea had a very rough childhood growing up in Harlem. She described playing organized sports with other children in a police barricaded area. Althea became proficient in paddle tennis in 1939, and at the age of 12, she became the New York City paddle tennis champion. She quit school a year later and engaged in a lifestyle of street fighting influenced by her father's boxing skills - the same father she had to run away from to shelter for abused children. A group of her neighbors collected enough money to finance junior membership and lessons at a local club and by 1941 was starting to win local Junior tournaments.
She won the ATA (American Tennis Association) girls' championship in 1944 and 1945. By 1947, she had won 10 straight Women ATA titles. The ATA was the African version of the USLTA (US Lawn Tennis Association).
The USLTA only allowed Althea to play in 1950. Although she lost her first match, it was a still a defining moment. Over the next several years, she worked as a physical education teacher at Lincoln University in Jefferson City, Missouri, and continued playing tennis and rising the USLTA ranking. She toured the world playing for the US. As the 50's came to a close, Althea was the best player in the world with 11 Grand Slam Titles.
When Althea turned pro in 1959 - and was denied entry to most tournaments - she realized her professional tennis career would go nowhere. She became a professional golfer; seeing better financial success. Althea said that when she looked around, she saw white tennis players, some of whom she had thrashed on the court, were picking up offers and invitations. She felt her triumphs on the court had not destroyed the racial barriers as she had hoped. Or if it did destroy them, they had been erected behind her again.
It wasn't until 1971, when another black female player Evonne Goolagon won one a Grand Slam title. It would be an additional 43 years before Serena would win her first title in 1999.
Althea Gibson, without question, was the most athletic black player in sports history. Her accomplishments were revolutionary because of the psychological impact on the black community. Every time she was a grand slam winner, she proved that people of color (or anyone, really) when given the opportunity, can compete at any level and make history.
Many like myself see Serena Williams as the best female tennis player in the history of the game; this would have never been possible without legends like Althea Gibson. Althea had the courage to go on court and face all the demons of discrimination, rising to reveal herself a true champions.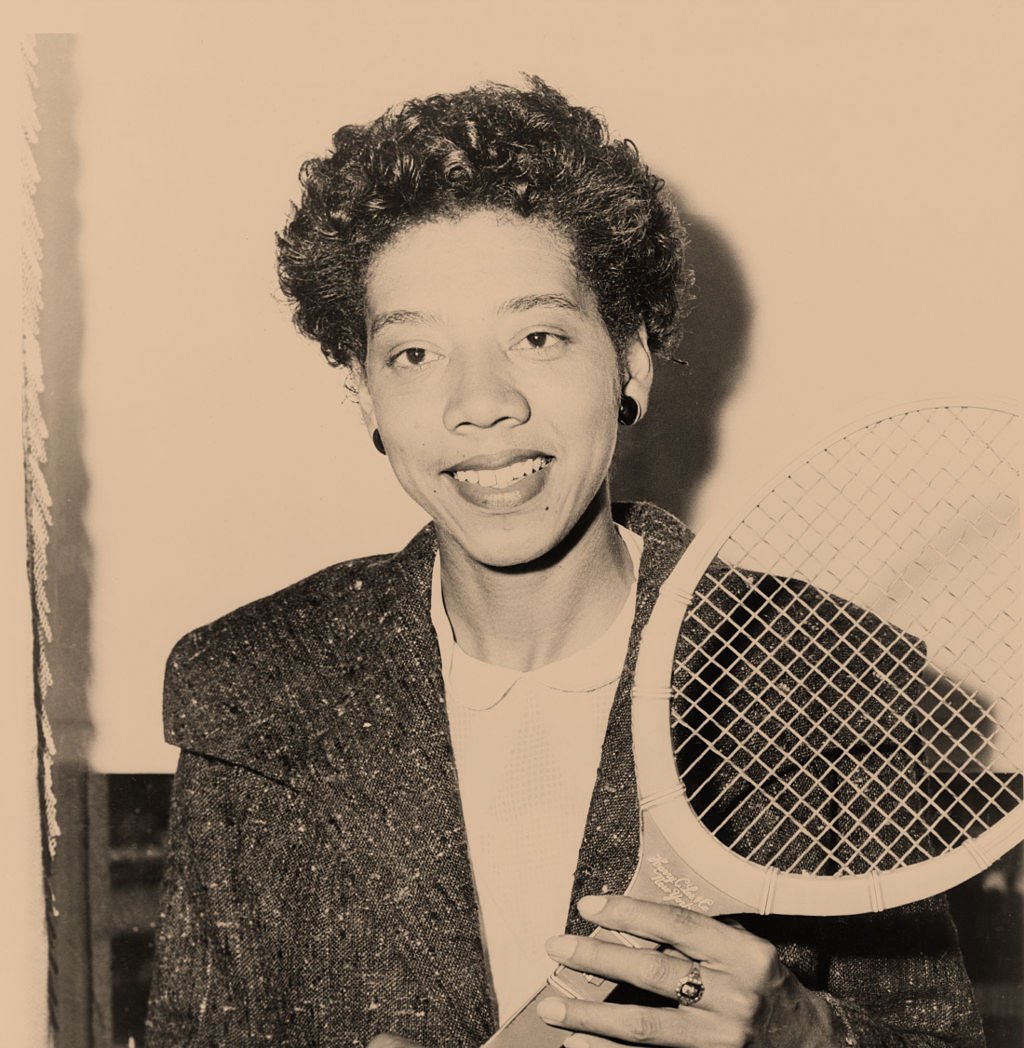 New York World-Telegram and the Sun staff photographer: Palumbo, Fred, photographer., Public domain, via Wikimedia Commons